I am very pleased to announce that September's Woman Warrior is my mother Marie Ann Yoo! Her photography online exhibition The Feeling of Han: Portraits of Post- War Korea (1956-1957) opens at the Korea Society and runs from Thursday, September 16-December 16. Her artist talk video release is September 16 @11AM (HST) and will be available on the Korea society Youtube channel after that date.
Click here to directly visit the online exhibition.
To view the collection, use the password: Koreasociety
Marie Ann Kauang-Hee Yoo was born in 1936 in Honolulu, Hawaiʻi and raised on the Kunia Camp plantation. A descendant of the first wave of Korean immigrants to the US (1903-1905), her family's reasons for immigration to the territory of Hawaiʻi were like other Koreans: to practice Christianity, escape Japan's colonial rule, and ensure their children's education.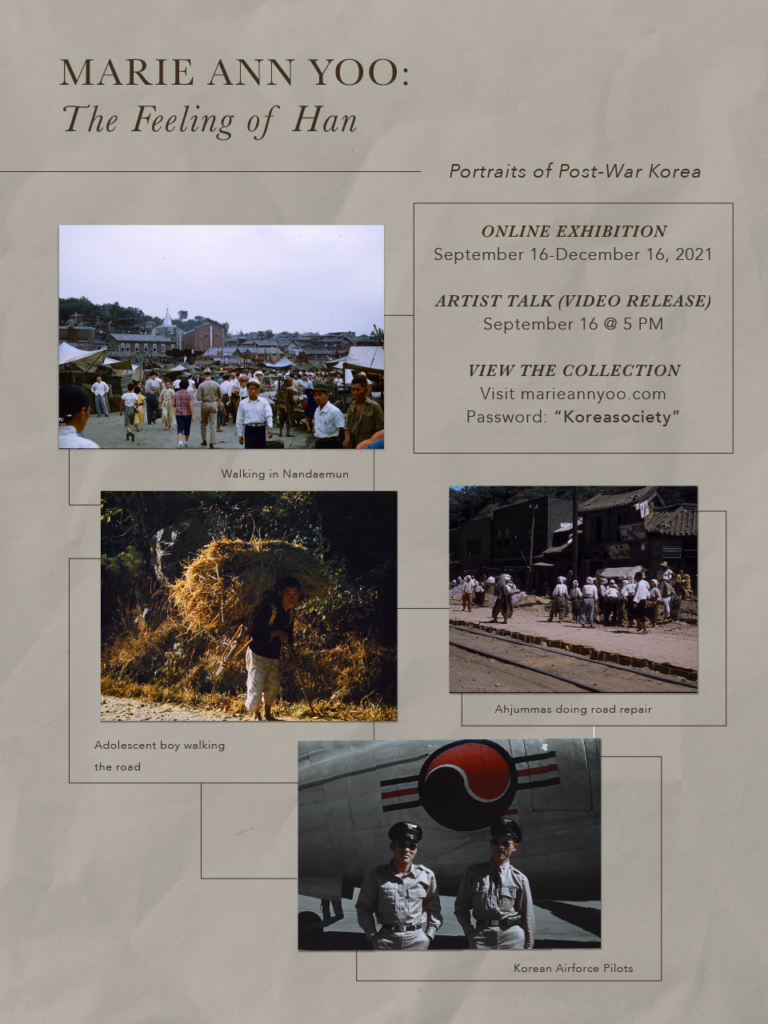 In 1955 Syngman Rhee, a family friend and the first president of South Korea, offered Yoo's mother, Salome Han, the opportunity to be the Public Relations Director of Bando Hotel, which was located in what is now the site of the Lotte Hotel in Myeongdong near City Hall in Seoul. Marie Ann, then a student at the University of Hawaiʻi, and her sister Elizabeth, who had just graduated from high school, joined their mother and moved to Seoul for one year.
After her sojourn to Korea, Marie Ann transferred to the University of Oregon where she majored in East Asian Studies and political science. After relocating to the Bay Area, she married Dr. Tai-June Yoo and raised three daughters, Stephanie, Christine, and Katherine. She traveled the world and lived across the continental United States, returning many times to visit Korea and lived there again, briefly from 1969-70. After decades away from the Islands, she has returned home to retire in Hawaiʻi.
* *
My mother gave me the gift of reading and in this way, she is responsible for initiating my journey into the world of reading and writing. By the time I was 8, I had moved every year. Making friends was a challenge for me. I was often the only Asian child in my class or neighborhood, and this led to feelings of isolation and self-consciousness. I keenly felt my difference. When I told my mother I had no friends, she told me to read a book, because if I do this, I would always have friends. (For those teachers reading this who are horrified, there wasn't much of a social emotional learning emphasis in those days…) Mom was right. In stories I entered a dream and found freedom. My mother encouraged my intellectual and creative interests, and it was her appreciation of art, music, food, flowers, and all of the cultural and aesthetic aspects of life that shaped my perceptions of the world. Through her I came to see how beauty shapes the truths and possibilities of what we can imagine. My mother taught me how to dream.
She debuts as a photographer at the age of 86.
Congratulations to Marie Ann Yoo!
I hope this inspires some of you: everyone's journey is different. Time is elastic. Art matters because you do. Women move through society juggling a multitude of roles and identities. Hold fast to your dreams and know that your stories, in whatever form they take, will find their way into the world and are always relevant.