I spent the ages of 13-17 in boarding school at Phillips Academy Andover. I say now that the only time I wasn't competing was when I was sleeping. Andover was about performance, excellence, and achievement within the very specific parameters of the East Coast establishment.
In retrospect my journey in life has been highly influenced by the relatively short amount of time I attended that school. I lost touch with almost everyone I knew from that time, and as the years passed came to wonder if I had imagined the friendships I had cultivated there.
In the end, I concluded that the majority of the ways that we were taught to behave were in fact oppositional to how one cultivates friendship and compassion, and the relationships were primarily utilitarian. Adolescence is a difficult time, never mind if you are thrown into an environment that focuses on your believed potential. I deeply appreciated learning the profound lessons of literary analysis, and yes, the testing of one's abilities is part of growing up.
But true friendship is rarely made of this stuff. It's about kindness, support, and tolerance. It's about the joys and foibles of a human relationship. Compassion. Foibles. Joys. Forgiveness. Connection of the spirit and heart. I would like to say that I developed a host of friendships from Andover, but truly, I did not. I'd say I had hundreds of acquaintances, some very close, but could rarely be myself, although what teen is herself? That's the nature of being a teen! Figuring it out! I will say that if a true friendship was developed and survived from that time, it is likely to be real. Like many private institutions for the elite, it functioned as a place of networking.
For years in my adult life I avoided anyone having to do with the school. I questioned if I had anything in common with them, politically, emotionally, or socially. It was designed to be an environment of handpicked children who were anointed by the Admissions Office Gods as young leaders in the making. After I left, I didn't feel I was leading in anything. Where was I supposed to lead someone? Why me? Who is leading? Can't I follow? I'm tired! Where are we heading? This leading stuff is very not mellow! she said…in cowardice? With anxiety? When I did bother to check in on what was going on with most of the people, I noted how many of them continued to compete, and behave in a manner I deeply questioned for reasons of ethics and kindness.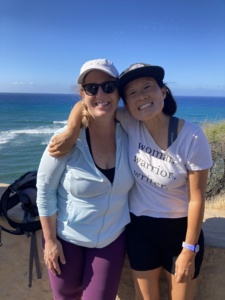 During COVID I reconnected with my old dormmate and friend Catherine Cotins. We had seen each other once over a decade ago when I was in Boston for a conference, having found each other again on social media. We had lost touch since high school graduation and had gone on our separate paths, navigating our way through school, children, illness, deaths, work, marriage, divorce, and the long river of life with everything that it throws your way.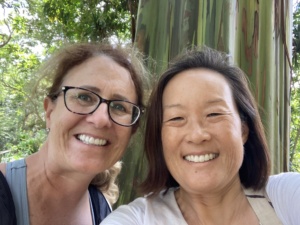 A few months ago Cathy Cotins came to Hawai'i. We talked, hiked, laughed, and went out stand-up paddleboarding and got tired shoulders. I met her son and she met mine. She went to dinner with mom and dad after all that time. Her son was older than she was when she had last seen my parents. She had spent the summer after senior year with my family while we toiled in my dad's lab injecting rats with diseases (more on that later…I know how to swiftly break a rat's neck, but uh, haven't used that dubious skill ever since. Any science interest either one of us remotely had was dead by the end of that summer!). We couldn't stop talking and sharing. What was both meaningful, reassuring, and exciting about meeting up with each other was knowing that I did have a true friend who knew who I was so long ago, and here we are, decades later, and we still have this connection.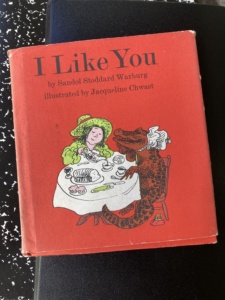 She gave me this little book I Like You by Sandol Stoddard Warburg, illustrated by Jacqueline Chwast about friendship and inscribed these words: "…I hope we can always stay friends. We're so different so much the same, and good compliments to each other all at the same time. We may not do that much together, but when we do something, it's always so much fun no matter how small…The world isn't such a bad place with friends like you in it."
Andover was hard on both of us, an experience we wanted to forget for our own individual reasons. I'm so glad we are friends again and know I will know her the rest of my life. This is a fantastic feeling.
Cathy texted me after she returned, both of us so happy to have reconnected and said this about seeing each other, especially in the context of that hard time during school and what it did: I feel less broken.
That's what a good friendship does—it heals and opens you through connection. It changes the future and present as it changes the memories of a place and time. By reconnecting again, the ending changed, and in this way, everything else ripples back and forth and flows with a different sense of meaning. We get better through knowing and sharing with other people. We need people to cheer us on in life, to empathize and to be compassionate with us. This friendship makes me so very happy. She's thousands of miles away, but there are few people in life who get who you are and to know someone does! What a great feeling! I feel honored to call Cathy my friend!
This is all to say that yes, get in touch with that person you once knew, because there is a good chance that what you will find out is that you did know each other, you were friends, and that can make all the difference as you journey on discovering who you are. Because the way that someone knows you, if the person really knows you, is probably important and a reminder of possibility and dreams. You are there for each other. Connect. Reconnect. Friendship.