Aloha,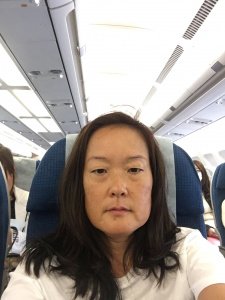 This is me three years ago. I had boarded a plane from Hong Kong utterly shattered. In fact, I had missed my layover flight from Seoul to the US despite being right at the gate — they were calling my name over and over on the loudspeaker (I found out later) and I was on the phone completely thrashed and talking to a friend and didn't hear anything. I had to spend the night in the airport. Everything was shut. I finally found the overnite hotel there and checked in for about 5 hours. I took this picture when I got on the plane and sent it to my mom saying, "Mom, I deserve more out of life."
I landed in Hawai'i, called around and talked to a few lawyers and my ex was served papers when he stepped off the plane about a month later.
FLASH FORWARD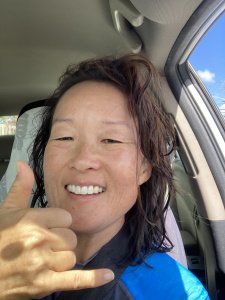 This is me a few weeks ago. I just got out of the water near Waikiki. Three years is a lifetime.
If you would have told me I would feel this good back then, I would never have believed you. I am not the same person. I went through a massive transition. One of my old friends said that obviously, my entire system got rewired when I divorced and she was right. I really do like my life so very much.
Life is not problem free, but the big problem (the ex) is GONE. And I came to see that he was, in fact, the physical real-life manifestation of my doubt, fear, insecurity, and anxiety. I had married my nemesis. Yep.
Worries do come up. Like about 3 months ago I was worried. OH no, the Kid XYZ. My business XYZ. My family XYZ. Will I…Should I…Will I…
You know once you start that train of doubt it gets really crazy.
SNAP OUT OF IT
Then I thought about it very deeply and said this: STEPH SNAP OUT OF IT.
And weirdly, I did within a day or two. Why?
Because the person who would keep Steph in that old zone of bad vibes and fear is no longer around!
YOU GOT THIS
So I said to myself: STEPH, YOU GOT THIS. No need to feel that doubt because why should you? The person who exemplified doubt and made you feel it every second of the day is no longer around.
I stopped doubting.
STAND UP NOW
This kind of bossing myself around worked really well when I went out surfing because I was just trying to stand up and hesitated and then I yelled out to myself: STAND UP NOW!
And then I stood up!
There are days when I am just thinking WOW. I feel awesome. Because for the most part, I do. I am not going back to that old picture ever again. EVER. I realized over the past year that what started this change was not simply the divorce itself legally, but it was rewriting my narrative and writing down the story of what I believed. When you write your truth to power you change your life.
Inserting my story in my legal file affected all aspects of my divorce process, most importantly, my emotional well-being.
#writeyourdivorce #drstephaniehan #womanwarriorwriter
Look out for announcements for the SPRING 2023 class. Sign up for my newsletter to find out further info.
Register @drstephaniehan.com
~empowering women through narrative~
Share this post with women you know who are divorcing.